Our meeting room – Carnegie – is ready!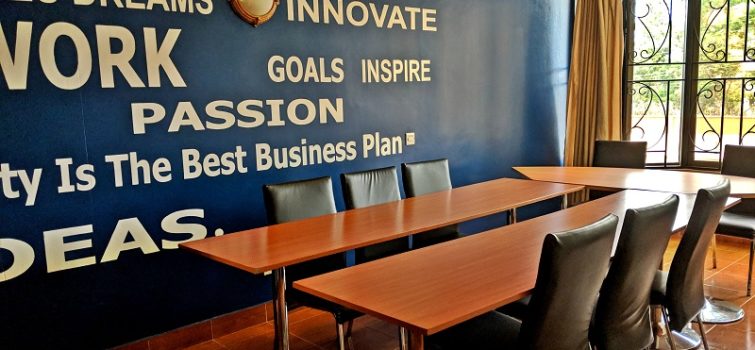 We are so excited to present our new meeting room, CARNEGIE, in our Kampala Hotel, Prestige Hotel Suites. Our meeting room doubles up as a board room and accommodates up to 10 persons.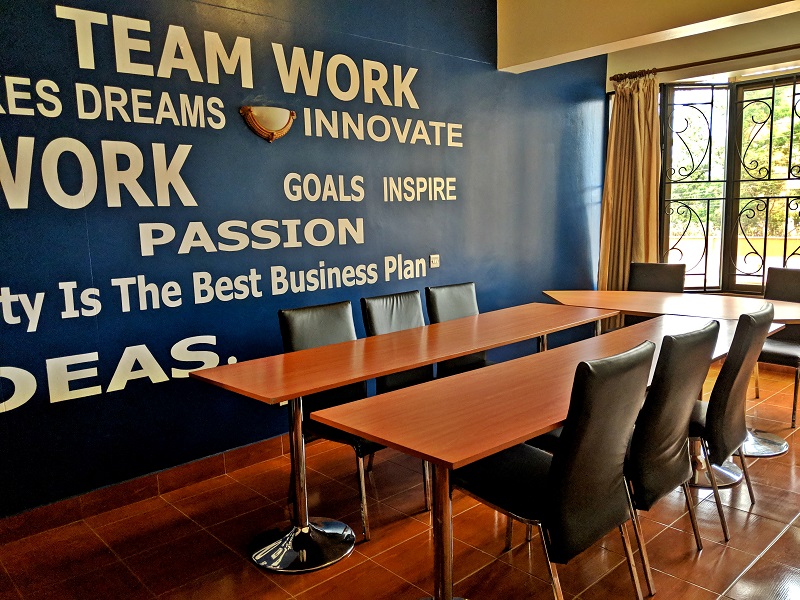 This meeting room would be perfect for those all important board meetings that need to be taken away from the office in Kampala. These could include:
Presentations
Interviews
Client pitches
AGMs
Research
Training/Workshops
Staff Days away and down-time (we have a pool 😀 )
Or even just a day away from the office to get a project done.
Carnegie's design has been in the pipeline for a few weeks and is very special to us. It has been designed to inspire and conceive ground-breaking ideas. Blue was chosen as the back-drop as blue is the colour of depth, stability, intelligence, trust, loyalty, faith, wisdom and confidence – all essential traits for success. Furthermore, we highlighted the wall with inspirational words to further productivity and hopefully cut back on procrastination 🙂
Why did we choose the name, 'Carnegie'? Carnegie was an American steel industrialist and quite possibly one of the richest people in history. A self-made man, he went from nothing to becoming a steel tycoon and eventually a philanthropist. He amassed a fortune of $310 billion and gave away $350 million in donations around the world over his lifetime. He strongly believed in learning and education and over 2,800 libraries were opened with his aid.
Given we want our boardroom to be a place of visionary ideas and creativity, we couldn't find a more apt name than naming it after 'Carnegie' himself.
Several business services at an additional charge are available for use in conjunction with this Kampala meeting room or board room such as:
Fast & Free Wi-Fi
Flip chart & Marker
Projector and Screen
PA system
Black and White Printing/Scanning services
Notepads & Pens
Bottled water
Luncheon services
Tea/Coffee services
Our hotel is centrally located in the Kampala city center, only a 6 minutes walk from the Central Business district. If your office is based within the Kampala city center, then you should look no further.
Simply drop us an email at info@prestigehotelsuites.com for more information on our Carnegie meeting space.