Are you looking for a meeting room in Kampala? Our hotel boasts a beautiful out of the box meeting room, Carnegie, suitable for upto 10 persons in a very central location, Nakasero, in the Kampala city centre.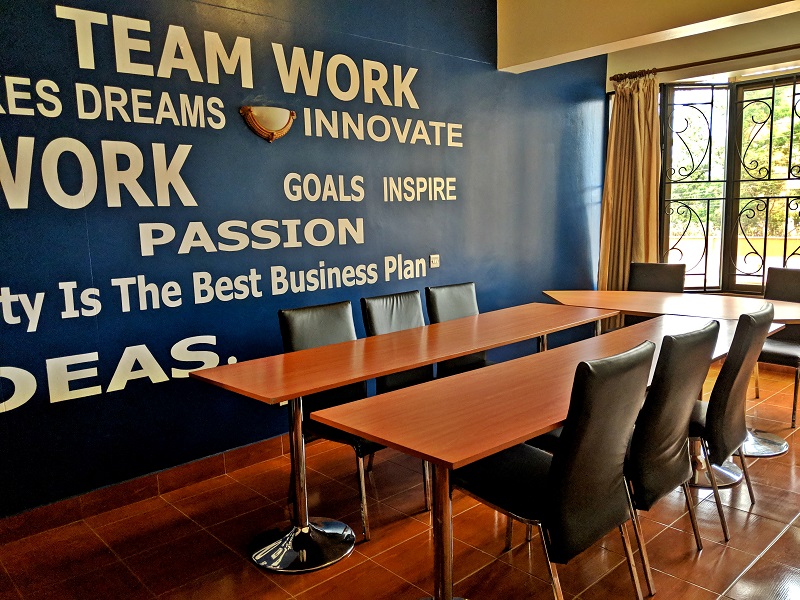 Pricing:
At $50 per day, our meeting/board room will be perfect for those all important board meetings that need to be taken away from the office in Kampala. These could include:
Presentations
Interviews
Client pitches
AGMs
Research
Training/Workshops
Staff Days away and down-time (we have a pool 😀 )
Or even just a day away from the office to get a project done.
Facilities:
We are able to provide all the extra facilities you may require at our conference venue for an additional fee such as:
Projector & Screen
Public Announcement system
Flipchart
Stationery including notepads/pens/markers
Lunch/Dinner/Snacks catering
Business services such as printing/photocopying
Bottled Water
Free & Fast Wi-Fi
If you require any other services such as binding etc, simply get in touch at info@prestigehotelsuites.com.
Parking:
We have ample free parking space at our hotel for your meeting room attendees. We have CCTV on site and the hotel/parking is securely guarded by armed guards.
Catering:
At our hotel, we can arrange for a set lunch or dinner buffet at a fixed fee per head. We can also arrange for snacks such as arrival snacks or tea break snacks. These will be essential during your intense board meetings and leaving the intricacies of organising food to us will enable you to prepare and focus on your meetings.
Simply get in touch with us with your requirements at info@prestigehotelsuites.com and we'll take care of it.
Away from work day:
If you are a company/organisation looking for something different, we can create "away from work days" for your staff.
The concept of "Away from Work" days is to combine work/play to make either the meeting/training more interesting and also to motivate your staff.
Some combinations include:
Training plus Leisure eg Swimming
Indoor/Outdoor Team Building Activities
If you have other "away from work" day ideas you would like to explore, simply get in touch with us at info@prestigehotelsuites.com.
Click to visit our page on our Meeting Room, Carnegie, in Kampala for more information on our inspiration behind our meeting room.