Celebrate the Easter Weekend 2020 in Kampala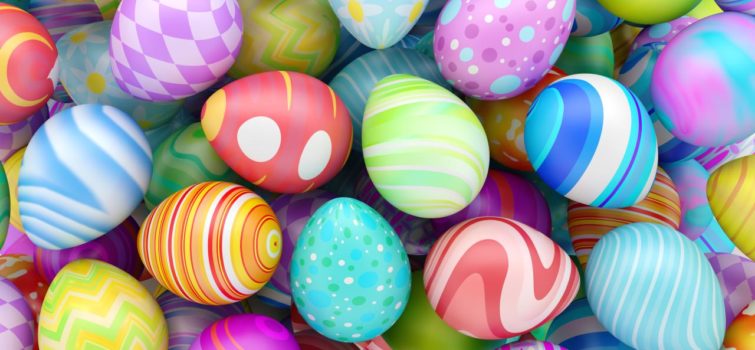 The Easter weekend is a welcome break after the first quarter of the year. Work is generally very hectic in the first 3 months of the year with businesses implementing new goals and starting off the year with a bang.
The Easter weekend is a great time to finally wind down, spend some time with your family and loved ones or even reflect on the previous months and how far you have come since the beginning of the year. For those who are religious, Easter is a great way to reflect on how Jesus Christ gave up his life for mankind's sins and then resurrected from the dead.
Usually, over the Easter weekend, travelling to another country might be an idea. However, with the outbreak of the COVID-19 Corona virus, flights have been cancelled, countries are in lock down and there are so many travel restrictions being implemented by many countries. Self-quarantine measures are being put into place, restaurants/bars are closing down and any mass gatherings such as festivals are being cancelled as well. So is it worth travelling to another country to spend your Easter weekend there? Definitely not. Not only will you spend lots of time looking into travel restrictions, countries are continuously updating their travel bans as the COVID-19 virus spreads and you may not be able to travel by the time Easter comes around.
If you are in Uganda at the moment and are looking to do something special on the Easter weekend 2020, you are pretty lucky. Uganda is a beautiful place to be with lots to see in the countryside and if you will be staying in Kampala, you'll still be able to visit bars/restaurants as there is currently no case of COVID-19 in Uganda. Business is as usual and let's hope it stays this way.
EASTER SPECIAL OFFERS
At our hotel, we have some special offers for those of you who will be spending your Easter weekend in Kampala. As we are centrally located in Kampala, you do not have to travel far and you'll reduce the risk of catching the COVID-19 virus.
We have several facilities on site such as a swimming pool, gym, bar and restaurant where you can wind down and relax. Our staff will take care of you and you won't have to worry about a thing.
Have a look at our offers below and feel free to call us on 0751220101 if you would like to book your stay with us or have any questions. You can also drop us an email at info@prestigehotelsuites.com
Bed and Breakfast Easter Offer for Two
A perfect Easter Offer for couples who are looking for something simple and affordable in the heart of Kampala City.
Relax and enjoy at our hotel in Kampala as you experience our hospitality and are treated like a VIP. At only $90 for Two per night, relax in our A/C Suite that feels just like home. A full English Breakfast with plenty of fresh fruits and juices is also included in the rate for both of you so you don't have to worry about a thing.
For your leisure, there is complementary access to both our swimming pool and gym. You can also order from our onsite restaurant and celebrate the Easter weekend holiday in style. Fast and Free Wi-Fi is included in the rate.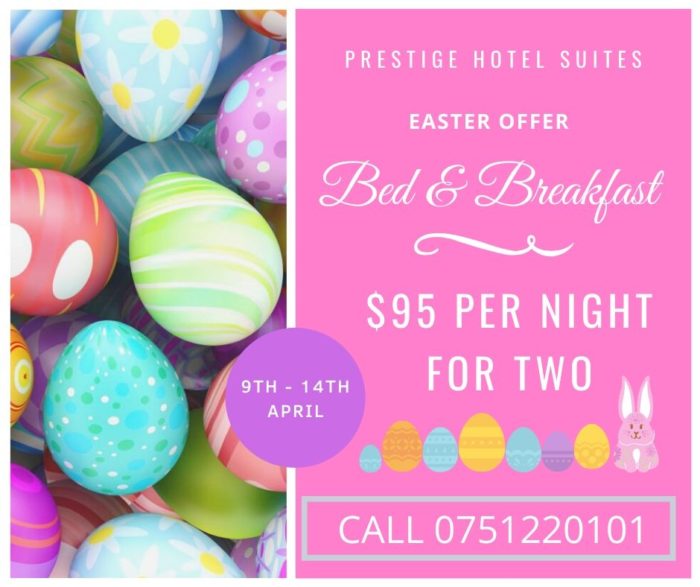 Special Easter Offer for Two
Celebrate the 2020 Easter weekend with your loved one at our hotel in Kampala for only $140 a night. This includes Bed and Breakfast, a complimentary glass of Four Cousins Red/White wine, a selection of a main course for each one of you from our A La Carte Menu as well as access to our well-equipped gym and swimming pool. Fast and free Wifi is also included in the room rate.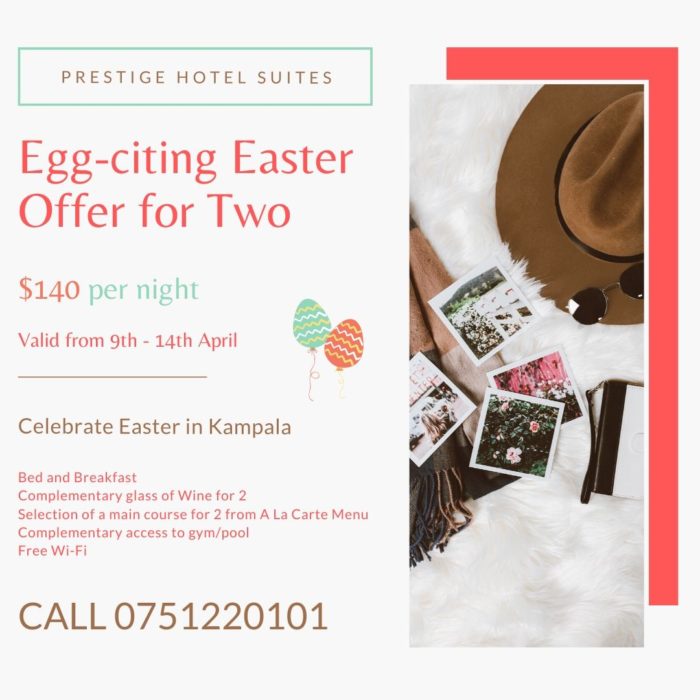 Special Easter Weekend Offer for Four
Celebrate the Easter 2020 Weekend with your family and make it one to remember. No need to travel outside Kampala city with the little ones. Instead, drive right to our hotel in the heart of the city, we also have ample and free parking!
At only $250 a night, spend the night with your family at our hotel in our Family Suite. Included in the rate is Bed and Breakfast, a complementary glass of Four Cousins Red or White wine for mum and dad, a complementary soft drink for the two children, a selection of a main course for each of the four guests from our A La Carte Menu and access to the pool for the whole family and the Gym for adults only. Free Wi-Fi is included in the rate as well.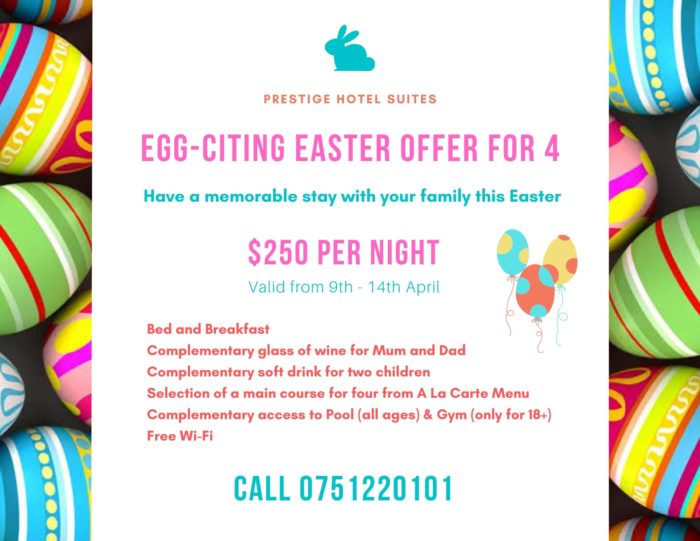 Simply drop us a call at 0751220101 to book a room and celebrate the Easter Weekend in Kampala, Uganda in style.
Why do we celebrate Easter?
Easter is the celebration of the resurrection of Jesus Christ from his tomb after he died for our sins via crucifixion. Easter is the celebration of the fulfilled prophecy of the Messiah who would die for our sins and rise on the third day. It signifies the victory of good over evil and is generally the foundation for the Christian religion.
What does the Easter Bunny have to do with Easter?
Easter is celebrated during spring which is also the season of new life. Several animals including hares/bunnies give birth to offspring during this season. This coincides with the symbolism of a new life through Christ. The hare/rabbit coming out of its underground burrow is also synonymous with Jesus Christ coming out of his tomb which is why the Easter Bunny may have been chosen.
Why do we celebrate with Easter Eggs?
It is not known why eggs became so popular during Easter but eggs are also thought to be a source of life. In Ancient times, eggs were gifted during spring festivals as a celebration of new life and this may be the reason why they are so common during Easter.