Why are we one of the best hotels in Kampala?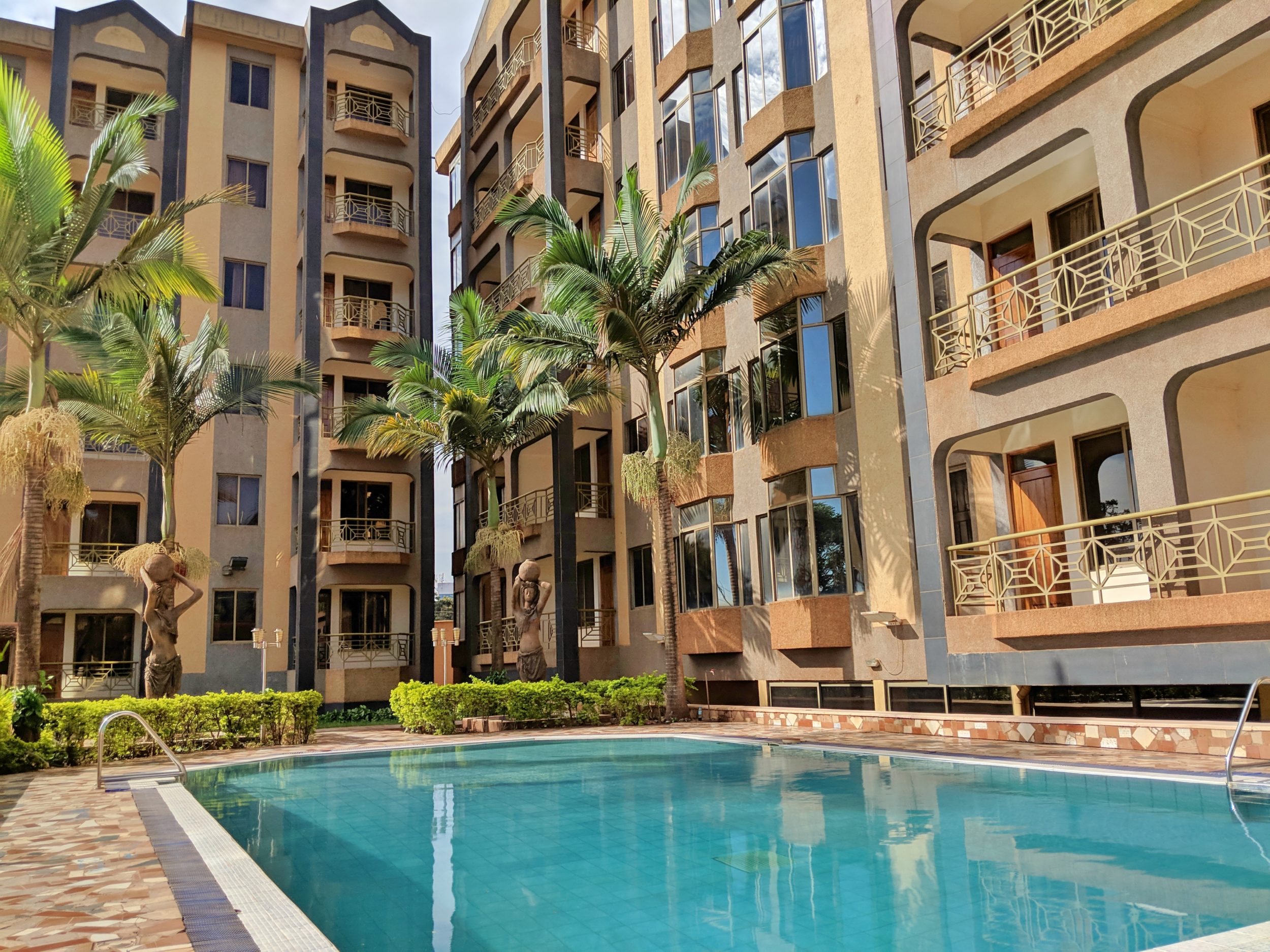 But ofcourse, we are one of the 10 best hotels in Kampala to stay in. Why?
We'll give you 3 good reasons why you should choose to stay with our hotel when visiting Kampala.
Location
Yep. Nothing beats this. Are you visiting Kampala for business? Are you visiting Kampala for leisure? Either way, we are centrally located right near the central business district – only a 6 minutes stroll from Kampala road. We are quite close to the tourist attractions you need to see when in Kampala – only a 20 minutes drive from our hotel (if you don't get stuck in traffic). Should you wish to visit Kololo for the buzzing night life, we are only a 15 minutes drive away by car.
If you are visiting for business/leisure, you'll be on a tight schedule and it is imperative you spend minimal time stuck in traffic. Kampala traffic jams are very bad and you could easily spend one hour in traffic across the stretch of one road only. Our hotel is very accessible and located in the Kampala city center, making it easy for you to travel to any destination, whether it is the Finance Ministry or the Kasubi Tombs.
Furthermore, we are surrounded by restaurants/cafes with easy access to shops, there is a large supermarket only 5 minutes away by walking and a local market for fresh fruits/vegetables only 10 minutes away by walking, two hospitals in the vicinity, several embassies, casinos and even a large African Crafts Market should you wish to purchase a souvenir to take back home from Uganda.
Good Value for Money
With every single room the size of an entire SUITE, you will not find bigger hotel rooms than ours in any hotel in Central Kampala. Our rooms are the definition of "spacious". As one of our guests famously quoted, "this is not a room, it is a house".
In every suite, you'll have a bedroom with an en-suite toilet, a separate extended lounge and family toilet. There is enough space to work on the large table provided in the living room and relax in the lounge whilst catching a Manchester United game on our comfy leather sofas. Every Suite also has a balcony overlooking Kampala with city views.
Did we mention we also provide complimentary tea/coffee in our rooms? There is air-conditioning both in the extended lounge as well as the bedroom. 24/7 Hot Water is available in the shower, Free Wi-Fi is available at your finger tips and we also have room service should you wish not to step out of your room.
All this, in addition to the fact that we have a fully stocked bar available to serve drinks 24/7, a large and clean Swimming Pool, Continental/African Cuisine Restaurant, 24/7 Reception, Taxi Service, FREE Full English Breakfast included in your rate, Daily Cleaning Service, Laundry Services, Pool Terrace, Free On-site Parking and a very Central Location, we think we offer a pretty good deal, don't you?
Amazingly Awesome Customer Service
From the moment you step into our hotel to the moment you leave, you'll realise our staff genuinely care about you and try their very best to ensure you have a good stay.
Being a small independent hotel, we train our staff to attend to every guest personally. Every guest is unique and has their own way of experiencing a hotel business/leisure trip. To this end, we endeavour to accommodate every guest and to fulfill as many guest requests as we can. We are more flexible than your average big brand hotel for which every guest is just another guest. For us, every guest is special and there won't be a time when you won't hear "Welcome Back!" if you are a returning guest. We also remember your requests during your stay with us.
Feedback is extremely important for us, be it positive or negative. If it is negative, it is an opportunity for us to improve and satisfy our guests even further – which is why we encourage you to let us know how your stay was.
Why we are one of the best hotels in Kampala
These are the top 3 reasons as to why we are one of the best hotels in Kampala and we are sure you'll agree these are three strong reasons to give us a chance to serve you.
Basically, what we are saying is Just Come On Down and Experience Our Hospitality! We Look Forward To Welcoming You To Prestige Hotel Suites 🙂